Traxxas TRX4 Led Light Set Complete For TRX-4 Land Rover
Manufacturer :
#8030 Product Description
TRAXXAS LED COMPLETE LIGHT SET FOR TRAX-4 CRAWLER #8030
Genuine Traxxas LED Light Kits for the TRX-4 are coming soon! Engineered with the same outstanding quality and attention to detail as the truck itself means that installation is easy and fun for any skill level. With a light bar, head and tail lights and under-wing rock crawling lights, the full set is the perfect addition to any TRX-4 Land Rover.
Precise Traxxas fit and finish makes installation easy and fun for any skill level, and the waterproof design allows for all-weather adventure after the sun goes down.
TRX-4 LED Lights are available as a complete kit or as individual components, allowing TRX-4 owners to select the exact setup that meets their needs.

Features
Sealed waterproof design

Engineered by Traxxas for direct fit on the Land Rover Defender body with tidy and secure wire management

3-in-1 wire harness operates all lights with a single connection between body and chassis

Traxxas LED lighting module
Regulated to provide consistent and reliable power output with batteries from NiMH to 3S LiPo

Eliminates overheating, glitching, and other electronics issues common with unmatched aftermarket systems

Integrated High/Low brightness switch provides two output levels for the RIGID® Light Bar and the headlights

If you want to let your TRX-4 Land Rover Defender customers know about these light sets, you
Also available: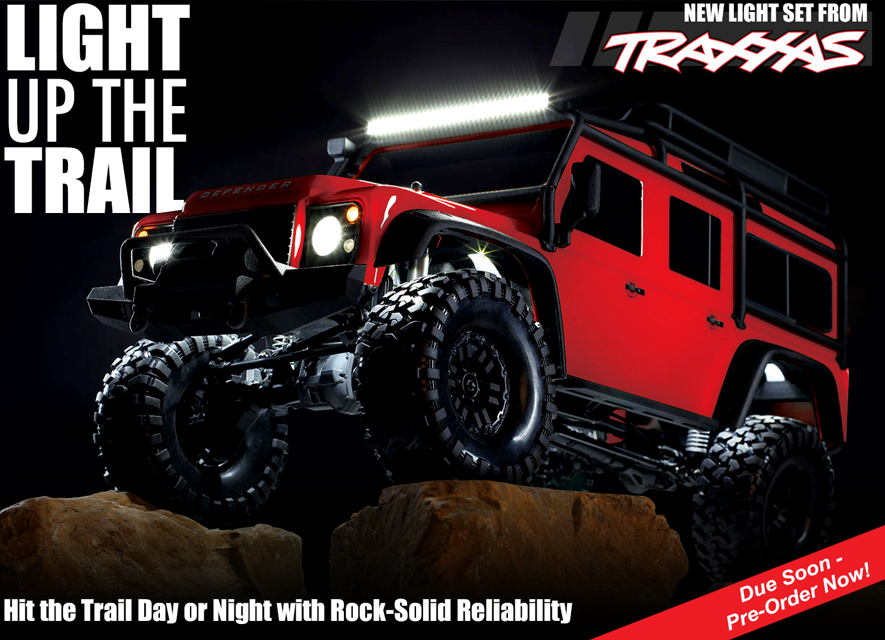 Leading RC Prices Online
#8030 Spare Parts & Accessories
#8030 Product Reviews